Example Customisations
Click on image to zoom in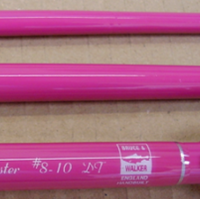 Colour of Rod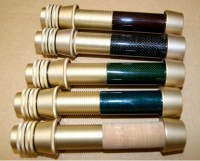 Reel Fittings (Champagne)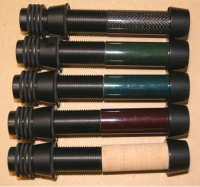 Reel Fittings (Black)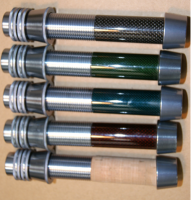 Reel Fittings (Pewter)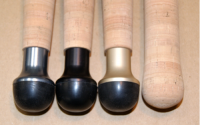 End Caps
All Prices Include VAT at 20%
Bruce & Walker Limited reserve the right to alter specifications at any time
If you have a question that is not answered by this website then please Contact Us
Customise Options
In this quantity driven, mass production age, it's nice to know that the individual still matters. You can have something different, something unique, a "one off".
We hope this section will show you a little of what is possible, and inspire you to have something entirely different and unique. If there is anything you would like that is not covered by this document, please be in touch and ask. We like a challenge!
Personalisation
If you would like your name on your rod, or your company name/logo on your own range of rods; an inscription for a retiring colleague perhaps; or a significant date hand written on your rod – this is all possible. Please allow approximately 4-6 working days to complete the work.
| | | |
| --- | --- | --- |
| Name on rod | £31.50 | plus packing + return carriage |
| Initials on rod | £18.00 | plus packing + return carriage |
| Date on rod | £18.00 | plus packing + return carriage |
| Message or inscription on rod | £31.50 | plus packing + return carriage |
We can also copy and place a company logo or symbol on a rod, such as a country flag. You might prefer a transfer made for you, rather than having it hand written on the rod. That is also something we can offer.
One off symbol/logo/transfer: Price on Application (plus packing + return carriage)
Custom Finished Rods
An increasing number of owners find that they like the action of one particular Bruce & Walker rod, but would prefer to have it finished differently. There are varying extents to which a blank can be finished, and the cost is managed accordingly. Here are some of the options available.
Colour of Rod
We have a wide variety of in house colours, but we are very happy to obtain your own specific colour, if you wish, for a very reasonable addition of £25.00 per tin. We are always happy to prepare a sample of the finished colour with your chosen whipping thread, before you make a final decision. Our in house colours are shown below. 
| Gloss Only | Matt Only | Matt or Gloss |
| --- | --- | --- |
| Gold | Mahogany | Black |
| Ruby Red | Anthracite Grey | Pale Green RAL 6021 |
| Sky Blue | Victorian Maroon |  Royal Blue |
| Magenta | Dark Olive | British Racing Green (Mid Brunswick Green) |
| Traffic Blue | Leaf Green | Wine Red |
| Pastel Blue | Reed Green | Deep Coach Green |
| May Green | Black Sparkle | Olive Green |
| Chrome Green | Pale Blue | Black |
|   |   | Pale Green |
|   |   | Royal Blue |
Cork Handles
The quality of the cork raw material varies from year to year. Cork is an organic crop, and so you can have good years and bad years. What might be classed as a Super Plus Quality Grade last year, might not be as good in quality as this year's Super Plus Quality Grade crop. And this is something that no one has any control over whatsoever. It's in the hands of Nature and the climate.
We are in direct liaison with the cork tree growers of Portugal for our cork handles. We work very closely with them to get the very finest quality cork and to buy at the right time, in the early part of the season, when the best of the crop is harvested.
Cork is graded by quality and available in several Quality Grades. We use only three Grades: Flor Grade, Super Plus Grade and Super Grade. Flor Grade is the highest quality that we provide, and it is beautiful to behold, but it is also three times the cost of the next nearest Grade. Super Plus Grade is the next quality rating, and then Super Grade. 
Rings
Some Bruce & Walker owners prefer to have specific rings on their rods. Many owners like SIC rings – indeed, more and more fishermen are going this way. Although each rod will be individually priced for SIC rings, to give you an idea of cost, a full set of SIC rings for a 15' salmon rod is, approximately,  an additional £145.00. If you prefer just the butt and tip rings only, in SIC, that is an additional £53.20.
Whipping Thread
Once you have decided upon the colour of your rod, your next major consideration is the colour of the whippings. Do you want matching whipping, or a contrast to the colour of the rod? Would you like silver or gold tipping on every whipping, or just on the ends of the joints and around the transfer? In terms of cost, we have a wide variety of whipping threads in house, so if you choose one of those, there is no extra cost at all. If you choose something we don't have in house, we will always try and obtain that for you, but there will be an additional cost of £15.00 for the spool.
Hand tipping in silver, gold, or a contrasting colour to the main whipping thread, is all done by hand without machinery, and as such, is time consuming and a learned skill. Tipping on every whipping: average cost for three piece 14' salmon rod is £70.00. Tipping on end of joints and transfer only is £25.00
To show you an example of what is possible, if you let your imagination run free, this rod was finished in Magenta Pink, with matching whipping and silver hand tipping on each whipping – it even had a pink carbon insert on the reel fitting to match. I think you'll agree, it is rather special!
Reel Fittings
We have a good choice of options when it comes to reel fittings, with clear carbon woven spacers, or a cork spacer.  We have designed  our own screw winch reel fitting, with a longer thread so that fishermen can use them with both the modern (shorter) reel foot, as well as their much loved, older style reels, which have a  longer reel foot.  Not only are they designed by us, but we have them made in Great Britain, by a craftsman engineer, just 14 miles from our own workshop!   They are available in pewter, black, silver, and Champagne gold.  They can be complemented with a matching end cap - details below.  Reel fittings to buy separately = £45.00 + p+p
For Spinning rods you can have a reel for fixed spool or multiplier reels, up-locking or down-locking.   
End Caps + Buttons
It is possible to have a matching or contrasting end cap to compliment your reel fitting, or you can have a normal rounded cork end. The picture shows a natural cork end, Champagne Gold end cap, Black end cap, Pewter end cap, with black buttons.  So you have a choice of a black rubber button, a cork button, or a composite cork button.  End caps + rubber button =  £15.95.  End caps + cork button = £17.00.  End caps + composite cork button = £18.95
Optional Custom Build Extras
| | |
| --- | --- |
| Hand tipping, in any colour:- |   |
| End of joints and around transfer | 27.00 |
| Tipping on every whipping + above | 67.50 |
| End cap + rubber button | 15.95 |
| End cap + cork button | 17.00 |
| End cap + composite cork button | 18.95 |
|  Fit rounded composite end cork |  9.00 |
|  SIC tip ring on salmon rod |  15.15 |
|  SIC butt rings (2) on salmon rod |  38.50 |
|  Silver Ferrule Stopper |  6.80 |
|  Brass Ferrule Stopper |  9.00 |
| Personalised hand inscriptions:-  |   |
|  Name on rod (e.g. John Smith) |  31.50 |
|  Initials on rod (e.g. KGW) |  18.00 |
|  Company or own transfer one off |  POA |