Example Customisations
Click on image to zoom in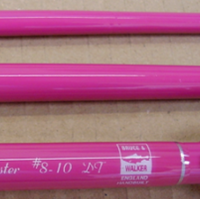 Colour of Rod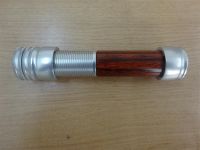 New reel fittings for 2019. Available in Silver, Black or Nickel SIlver (pale gold) Photo shows Silver.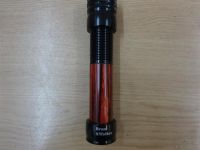 Reel Fittings (Black)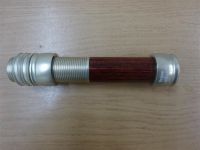 Nickel Silver (very pale gold)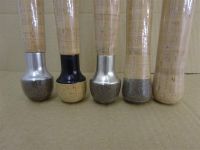 End caps: photo shows various examples = Silver end cap + composite cork (Rubbercork). Black end cap + Natural Cork. Nickel Silver end cap + composite cork (Rubbercork). Rounded end composite cork (Rubbercork). And Rounded end in Natural Cork.
All Prices Include VAT at 20%
Bruce & Walker Limited reserve the right to alter specifications at any time
If you have a question that is not answered by this website then please Contact Us
Customise Options
In this quantity driven, mass production age, it's nice to know that the individual still matters. You can have something different, something unique, a "one off".
We hope this section will show you a little of what is possible, and inspire you to have something entirely different and unique. If there is anything you would like that is not covered by this document, please be in touch and ask. We like a challenge!
To help you with colour choices, we have linked our Facebook page to the bottom of  the Home page of our website.  So if you are not a Facebook user, you can still keep up to date with all the wonderful colours our customers are choosing.  Take a look!  You'll be amazed at what is possible!  
Please note: all prices on this page include UK Tax at 20% VAT
Personalisation
What a perfect gift for the ardent fisherman in your family!  If you would like your name on your rod, or  an inscription for a retiring colleague perhaps; or a significant date hand written on your rod – this is all possible. Please allow approximately 5-10 working days to complete the work.
| | | |
| --- | --- | --- |
| Name on rod | £45.00 | plus packing + return carriage |
| Initials on rod | £27.00 | plus packing + return carriage |
| Date on rod | £27.00 | plus packing + return carriage |
| Message or inscription on rod | £45.00 | plus packing + return carriage |
Custom Finished Rods
An increasing number of owners find that they like the action of one particular Bruce & Walker rod, but would prefer to have it finished differently. There are varying extents to which a blank can be finished, and the cost is managed accordingly. Here are some of the options available.
Colour of Rod
We have a wide variety of in house colours,  both in matt and a gloss finish.  But we are very happy to obtain your own specific colour, if you wish, for an  additional cost of £57.60 inc VAT per tin. We are always happy to prepare a sample of the finished colour with your chosen whipping thread, before you make a final decision. Our in house colours are shown below. 
Should you wish to have a rod painted, which as standard has a polished carbon finish, such as a Norway Speycaster, this is £126.00 inc VAT.
| RAL | Colour | Matt or Gloss |
| --- | --- | --- |
| 5024 | Pastel Blue | Matt + Gloss |
| 5000 | Violet Blue | Matt |
| 5020 | Ocean Blue | Gloss |
| 5021 | Water Blue | Matt + Gloss |
| 5017 | Traffic Blue | Matt |
| 5022 | Night Blue | Gloss |
| 5023 | Distant Blue | Matt |
| 5009 | Azure Blue | Matt |
|  5014 |  Pigeon Blue | Matt |
|   |  Royal Blue | Matt |
| 3005 | Wine Red | Matt + Gloss |
| 2002 | Vermillion | Gloss |
| 4010 | Telemagenta Pink | Gloss |
| 4002 | Red Violet | Gloss |
| B + W | Maroon (own colour) | Matt |
| 3003 | Ruby Red | Matt |
| 8012 | Red Brown | Matt |
| 8016 | Mahogany Brown | Matt + Gloss |
| 4007 | Purple Violet | Gloss |
| 6017 | May Green | Gloss |
| 6003 | Olive Green | Matt + Gloss |
| 6013 | Reed Green | Matt |
| 6021 | Pale Green | Matt + Gloss |
| 6002 | Leaf Green | Matt |
| 6020 | Chrome Green | Gloss |
| 6001 | Emerald Green | Matt |
| B+W | Deep Coach Green | Matt + Gloss |
| B+W | British Racing Green | Matt + Gloss |
Cork Handles
Cork is an organic crop.  As with all crop harvests, you can have good years and bad years. What might be classed as a Super Plus Quality Grade last year, might not be as good in quality as this year's Super Plus Quality Grade crop. And this is something that no one has any control over whatsoever. It's in the hands of Nature and the climate.
We have been working with a small independent cork tree farmer in Portugal for our cork handles for over 40 years. We work very closely with them to get the very finest quality cork.
Cork is graded by quality and available in several Quality Grades. We use only three Grades: Flor Grade, Super Plus Grade and Super Grade. Flor Grade is the highest quality cork, and it is beautiful to behold, but it is also many times the cost of the next nearest Grade. Super Plus Grade is the next quality rating, and then Super Grade. 
Rings
Some Bruce & Walker owners prefer to have specific rings on their rods. Many owners like SIC rings – indeed, more and more fishermen are going this way. Although each rod will be individually priced for SIC rings, to give you an idea of cost, a full set of SIC rings for a 15' salmon rod is, approximately,  an additional £175.00 inc VAT. If you prefer just the butt and tip rings only, in SIC, that is an additional £58.50 inc VAT.  (Prices will vary according to the size of the SIC ring chosen).
Whipping Thread
Once you have decided upon the colour of your rod, your next major consideration is the colour of the whippings. Do you want matching whipping, or a contrast to the colour of the rod? Would you like silver or gold tipping on every whipping, or just on the ends of the joints and around the transfer? In terms of choice, we have a wide variety of whipping threads in house.  So if you choose one of those, there is no extra cost at all. If you choose something we don't have in house, we will always try and obtain that for you, but there will be an additional cost of £15.00 for the spool.
Hand tipping in silver, gold, or a contrasting colour to the main whipping thread, is all done by hand without machinery, and as such, is time consuming and a learned skill. Tipping on every whipping: average cost for three piece 14' salmon rod is £77.40 inc VAT. Tipping on end of joints and transfer is £36.00 inc VAT.
To show you an example of what is possible, if you let your imagination run free, this rod was finished in Magenta Pink, with matching whipping and silver hand tipping on each whipping – it even had a pink carbon insert on the reel fitting to match. I think you'll agree, it is rather special!
Reel Fittings
Our screw winch reel fittings are our own design.  More and more customers are asking to use their vintage reels (with longer/broader reel foot) on our rods.  And we needed to make something to accommodate this desire.  So we have two types of reel seats.  One reel seat has a longer thread, and a double milled recess in the hood, to accommodate both the longer/broader reel foot of the vintage reels, and a smaller slot, to accommodate the shorter, smaller more modern reel foot.  The other reel seat has a shorter thread and only one slot to accommodate the modern reel foot.   Both reel seats are engraved and available with a wooden spacer.  Colours: Nickel Silver (pale gold), Silver or Black - in both versions.  Price: longer thread/double milled recess for vintage reels = £99.00 + UK Tax = £118.80.   Standard length thread for modern reel seats = £90.00 + UK Tax = £108.00.
End Caps + Buttons
We offer an end cap to match your reel seat (Black, Silver or Nickel SIlver) with a natural cork button, a composite cork button (also known as Rubbercork). 
End caps + natural cork button = £27.90 inc VAT.  End caps + composite cork button = £26.91 inc VAT
To fit a rounded composite end cork is £27.00 inc VAT
Optional Custom Build Extras - all prices include 20% UK VAT
Hand tipping, in any colour:-
   £
End of joints and around transfer
36.00
Tipping on every whipping + above
77.40
End caps:
 
End cap + natural cork button
27.90
End cap + composite cork button
26.91
 Fit rounded composite end cork
 27.00
 SIC tip ring for salmon rod
 19.62
 SIC butt rings (2) for salmon rod
 41.83
 Silver Ferrule Stopper
 6.80
 Brass Ferrule Stopper
 9.00
Personalised hand inscriptions:- 
 
 Name on rod (e.g. John Smith)
 45.00
 Initials on rod (e.g. KGW)
 27.00
 Company or own transfer one off
 POA
Hand write name of rod
45.00
Paint a rod (non painted as std)
126.00
Order a special new paint
57.60

Double decorative whipping+

hand tipping on ferrule (3+4p rods)

32.40

Double decorative whipping+

hand tipping on ferrule (2p rod)

27.00
2 x Decorative cork strips on cork
45.00
4 x Decorative cork strips on cork
84.60
Decorative cork at top of handle
18.00

Decorative cork at top + bottom

of handle

36.00
Extension handle - detachable
72.00
Extension handle - fixed
54.00