News
Rosie visits SHD Composites
February 10 2020
A Happy New Year visit to our wonderful carbon fibre supplier, SHD Composites of Sleaford, Lincolnshire.  Always a pleasure to visit SHD, who always make us very welcome.  But this time, Rosie the office puppy, came too!  Everyone turned out to meet her and it was her first big outing, with so many lovely, friendly faces.  I have no doubt, she will be a regular visitor from now on!  Thank you to everyone at SHD for the warm welcome - with special thanks to Glenn Orton for facilitating the visit.
Facebook link up
September 27 2018
Please be aware that all the latest custom build choices that appear on our Facebook page, are now LINKED LIVE to our website.  Even if you are not a Facebook user, you can keep up to date with the latest custom build choices available, and see what other fishermen are choosing on their rods!
Conveniently located at the bottom of our Home page, just scroll down and see what's going on!  You will be amazed at the colours and builds coming through.  Currently, every single rod coming through the workshop today is different.  Different, lengths, different amount of sections, different handles, different reel fittings, different colours on the rods, different whipping thread colours - the choice is endless.  But they do say, that Variety is the Spice of Life!  Take a look and enjoy the show :-)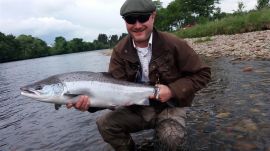 Success on the River Dee
June 28 2017
Wonderful news from the Royal River Dee!  This lovely young gentleman had a fabulous week on Lower Crathes with Robert Harper and Jordan Sinclair.  Using his trusty Norway Speycaster 15' (4x4) he had a day to remember.  Starting with this superb, bright, solid bar of silver, fresh off the tide and sea liced, a 16lb cock fish, on a small Cascade fly.  He then went on to subdue five fish in one day!  The stuff of dreams.
After all the trials and tribulations of a ghastly winter flood a couple of years ago, Lower Crathes in particular, and the Dee in general, is having a resurgence.  Nature is very resilient.  We are hearing more and more encouraging news from our B & W owners about some fantastic fishing on the Dee.  It is lovely to hear and I suggest we all head up that way pretty soon!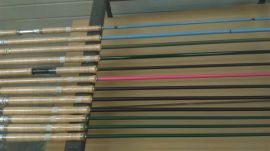 Variety is the Spice of Life
November 18 2016
It is very rare indeed, that so many varied and different rods all come together at the same time.  And every single one is different!  Some are six piece, some four piece, some three piece and some are two piece - it's quite a mixture.  As you can see, there is a wide choice of colour schemes too.  It is fascinating and exciting for us to work with such imaginative customers.  Much more fun than making the same rod, in the same colour, with the same build.  Thank goodness we are all different.  What a boring life it would be if we were all the same!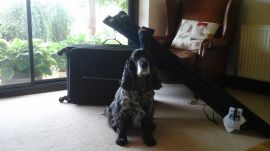 Scottish Game Fair - Scone Palace
June 29 2016
Suitcases are packed, the rods are ready and we are off to The Scottish Game Fair at Scone Palace 1-3 July!  How exciting is this!  Daisy-the-office-dog has had a bath and hair cut and we are good to go!  If you would like to see an array of different colours and finishes on our rods, together with our own, handmade aluminium rod tubes (sturdy 16 gauge aluminium) please visit the MacIntyre & Thomson stand on Fisherman's Row.  Everything was made especially for the Scottish Game Fair for you to see.  The whole event is a wonderful occasion, so please go along and enjoy every moment!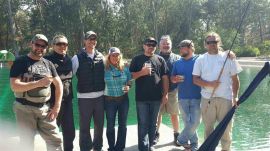 Spey-O-Rama 2016
April 27 2016
A massive CONGRATULATIONS to Mia Sheppard for taking First Place in the Top Ten Finalists, Women's Division at Spey-O-Rama this year! WOW! Using a Bruce & Walker Powerlite Speycaster. That's amazing! Well done Mia! And congratulations too, to Whitney Gould, who took Third Place, with a Bruce & Walker Competition Caster rod. Very well done you! Every single one of us back at the workshop, is bowing to your expertise. Congratulations!
And, of course, truly heartfelt congratulations to the five wonderful gentlemen, who qualified for the Top Ten Finals – all using Bruce & Walker Competition Caster SOR Edition rods. Wowzer gentlemen! Mr Travis Johnson (who took Third Place), Mr Zack Williams, Mr Tim Arsenault, Mr Brian Styskal and Mr Doug Duncan. To be in the Top Ten is a huge accomplishment! Well done all of you! The ladies and gentlemen back at the workshop of Bruce & Walker salute you! 
We're all sending you virtual big hugs. Thank you so much. You are truly the stars of the show!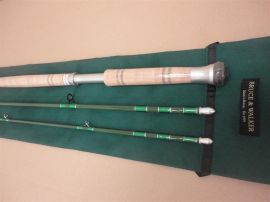 Decorative Cork Handle
April 2 2016
The gentleman who commissioned this very special custom finish, was very specific about having decorative cork.  To get the thickness of the composite bands of cork exactly right and all exactly the same, is a time consuming task and requires great skill.  As well as, placing them in exactly the right place within the rest of the cork handle.  It is then all smoothed down to present a seamless appearance.  Enormously satisfying to do, and, most importantly, he was very happy with the end result!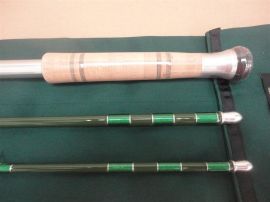 Decorative Cork Handle
April 2 2016
A close up of the rear cork handle, showing the precision involved with the hand built decorative composite cork bands.  Finely honed to the right size for the customer and placed in the correct position.  Then smoothed on the lathe for a seamless appearance.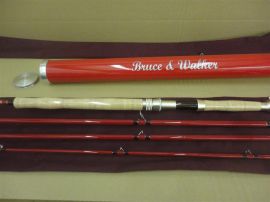 Custom Finish
January 20 2016
We are thrilled to report that over 90% of the individual rods we make, are benefiting from a custom finish, in one way or another.  The very best that this offers to any fisherman, is the chance to own something truly unique - and beautiful!  These custom finishes can range from a simple, personalised message, hand inscribed on the rod - to the more flamboyant.  To own a handmade product, made in Britain, made to your own personal specification, is a joy to behold!  And very often, a different colour rod, or a different colour whipping thread, incurs absolutely no extra cost whatsoever.  How joyful is that!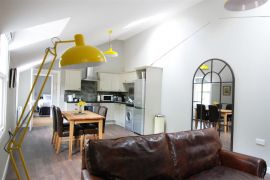 Walled Garden Cottages, Meikleour
July 23 2015
We are always very happy to recommend something that we have tried personally, and enjoyed.  Therefore, I am very pleased to recommend to you the Walled Garden Cottages on the Meikelour Estate in Perthshire.  www.islamouth.co.uk/accommodation.htlm   This is open to all, not just anglers fishing the Meikelour Fishings water. Everyone is welcome.  And his dog!   There are four Cottages in total, providing very well appointed, spacious, one and two bedroomed accommodation.  Fully renovated in Spring 2014, these Cottages provide absolutely everything you need for a self catering holiday.  They are on the Estate, in stunning surroundings, enjoying utter peace and quiet of the Perthshire countryside.  Any farm vehicles you come across are very friendly and always wave back!  All beds are super king size and can be "unzipped" to become twins, providing very affordable accommodation for a group of gentlemen, lady or  family visitors.  The Cottages are serviced and cared for by the Meikleour Arms Hotel, just two minutes' drive opposite the Estate gates.  Or a gentle, evening stroll of 10 minutes.  The food is delicious there, and the service is first class.  Included in the price of the Cottage is a full breakfast at Meikleour Arms, if you wish.  With the assistance of the Meikleour Arms Hotel, you can enjoy partial "self catering", as much or as little, as you wish.  All Cottages have WiFi and all welcome dogs. Indeed, with the surrounding countryside, it is a dog's Paradise!  You can book online at www.islamouth.co.uk or call the Estate Office direct on 01250 883424.  The Walled Garden Cottages are stylish, comfortable and convenient.  I highly recommend that you discover this hidden treasure!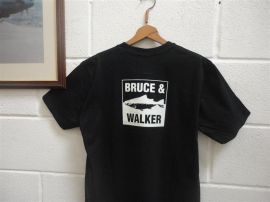 T Shirt
July 6 2015
Our new T shirt is now available!  Made from Premier Grade ring spun cotton, in black, with the black and white Bruce & Walker logo on the back of the T shirt, with the Bruce & Walker name, embroidered on the front, left hand side.  Sizes are Large (40" - 42"),  XL  (44" - 46") and XXL (48" - 50").  Perfect on their own in summer with casual jeans and trousers;   and under a shirt in winter for extra warmth.  Go to our Accessories Page for further details, or contact us direct 01487 813764 email: sales@bruceandwalker.co.uk  - we'll be happy to help!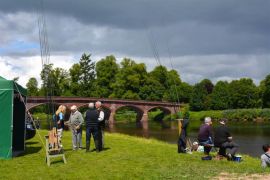 Meikleour Fishings Show
July 1 2015
Bruce & Walker were invited by Claire Mercer Nairne of Meikleour Fishings, to visit her beat on the River Tay, one weekend in June, for an Open Casting Day.  What a wonderful time was had by all!  The organisation by Claire and the Estate Office at Meikelour Fishings was fantastic.  The location was superb - what a beautiful spot on the Tay.  And the refreshments for the visitors, provided by Claire throughout the entire day, were out of this world!  Everyone had the opportunity to try any of the Bruce & Walker rods, including all the new models over the last couple of years.  And try them, they did!  We were delighted to watch an impromptu demonstration by Tom Brown with a Tournament Casting rod, performing some amazing casts and tricks!  It was a fantastic weekend, and we thank Claire wholeheartedly for her generous hospitality.  We can strongly recommend the Meikleour Fishing and all enquiries to the Estate Office (01250 883424) or www.islamouth.co.uk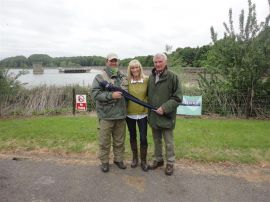 England Disabled Fly Fishing Team News
June 10 2015
What a wonderful start to the day!  We welcomed the newest member of the England Disabled Fly Fishing Team, Mr John Morgan Parker,  and presented him with his Powerlite 11' #8 rod.  After morning refreshments, everyone set out for a day's fishing.  It was lovely to take time out from the workshop and renew old acquaintances and meet new ones.  Wonderful people and a terrific atmosphere - perfect fishing requirements!  (Photo L to R: John Morgan Parker, Kay and Brian Potter)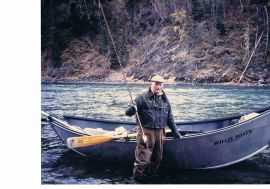 Eulogy for Ken Walker
May 20 2015
EULOGY for  Ken Walker
Ken Walker lived a remarkable life, by anyone's standards.  He worked hard all his life, and he played hard, in equal measure.  He came from very humble beginnings.  He was born in December 1926, the eldest child of the village blacksmith in Pondersbridge.  He had six younger sisters and one younger brother.  Although a bright boy, Ken had to leave school at 10 years, to help feed his family.  It was a hard childhood and a hungry one.  At 18 years he joined the Army.  He took the highest paid job he could, which was clearing landmines in Palestine after the War.  He witnessed some horrific sights, which later came back to haunt him, in the final stages of his Alzheimer's Disease.
After five years in the Army, he returned home.  He married Marjorie Dolby from Ramsey St Mary's in May 1952.  They bought a house with a workshop in Upwood, and he became the village blacksmith.  They had their only child,  Kay.  Marjorie had the Upwood village shop at the front of the house, and Ken had the blacksmith and workshop at the rear.  They both worked incredibly hard.  As mechanisation reached the farming world, Ken became an agricultural engineer and took on another workshop in Abbots Ripton.
It was during this time that he met and worked with Jim Bruce and Jim's father.  They had moved to the village from London and were making split cane fishing rods.  Ken made all the machinery for their business and seemed to spend more time with them, than anywhere else.  Jim Bruce and Ken became friends and a business partnership was formed.  They moved from split cane fishing rods, to fibre glass in the early 1970s.  By the mid 1970s, Bruce & Walker was one of the first companies in the world to make carbon fibre fishing rods.  Bruce & Walker became renowned throughout the fly fishing world, as the very best fishing rods that one could aspire to own.  And Ken had the privilege of making several custom built fishing rods for members of our Royal family. 
Ken travelled the world demonstrating and selling Bruce & Walker fishing rods.  They won many awards and had many followers.  Ken was very proud that the manufacturing for Bruce & Walker remained in Britain.  He was a fierce advocate of British industry and all that it stood for.  He was immensely pleased when his daughter Kay and her husband Brian, joined the company in 1983.  He and Jim were able to pass on to Brian, all the skills and information needed to continue hand making fishing rods, and the business.  Today, Bruce & Walker fishing rods are still made, entirely in the UK,  in Upwood, with British components and a British workforce.
Ken's favourite place of all, was in Scotland on the famous River Spey.  He built a house there in the mid 1980s and he and his family enjoyed many happy years overlooking the River Spey and the Cairngorms.  Ken was overjoyed, when in 1986, he was presented with his only grandchild, Simon.  Ken was actively involved in Simon's childhood, and for many years, the two of them were inseparable.
Very few knew of Ken's philanthropic work.  He was immensely generous.  If he could help anyone in business, he would.  He was also heavily involved in charitable work.  He assisted with funding the education of Masonic children whose parents had passed away.  Due to his own limited education, he was entirely self taught and felt that education was always the key to an enriched life.  He would always say, that life can take everything from you – your house, your money, your family and your hope.  But it can never take away an education.  That is always with you.  What you do with it and how you use it, is entirely up to you.  But no one can ever take that away.
His friend and partner Jim Bruce retired in 1995 and passed away in 2000.  Ken retired in 2001.  He was 74 years.  Although very healthy physically, tragically he was diagnosed with Severe Alzheimer's.  In March 2014 he became a patient in Primrose Hill Nursing Home in Huntingdon.  Alzheimer's took away his personality and  his character.  And the "light"  that was Ken Walker, slowly faded away.  He lived a very full, successful and happy life.   And we have no doubt, that even now, he is organising the salmon fishing beyond the Pearly Gates!
May he finally rest in peace.  Thanks be to God.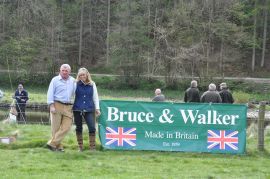 Open Casting Day - 21 June 2015
March 24 2015
Ladies and Gentlemen!  You are warmly invited to join us for an Open Casting Day on Sunday, 21st June at Meikleour Fishings, on the River Tay.  This will be Midsummer's Day – the perfect time of the year to try  rods on the stunning water at Islamouth, under the famous Kinclaven Bridge, on the River Tay.  What a beautiful setting to meet up and talk fishing!
Starting at 10am, Brian and Kay Potter from the  Bruce & Walker family business, will be on the stand with all the new Bruce & Walker rods for you to try.  Also there to offer help and advice, will be Mr Tom Brown and Mr Calum McRoberts, Head Ghillie on Meikleour Fishings.
Please make contact with Meikleour Fishings directly, at fishing@islamouth.co.uk or call the Estate Office on 01250 883424 for an invitation and details.  Accommodation is available, if you are travelling some distance and wish to make a weekend of it.  There will be a raffle draw and all proceeds go to charity.
We would love to see all Bruce & Walker followers there – come along, say hello, try out some new rods, and have a thoroughly enjoyable day!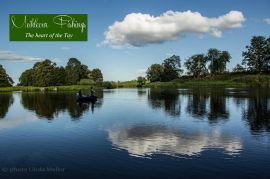 Islamouth & Meikleour Fishings and Bruce & Walker
January 22 2015
We are very pleased to announce our support and partnership with Meikleour Fishings at Upper Islamouth & Meikleour, on the beautiful River Tay, in Perthshire, Scotland.  (www.islamouth.co.uk) .  Head Ghillie, Mr Calum McRoberts, will have a selection of Bruce & Walker rods, which we are making especially for Meikleour Fishings, that will cover all eventualities and conditions on the Tay.
For those who are taking part in the fly-casting courses, run by the fishery, (www.islamouth.co.uk/Islamouthlessons)  you will be able to enjoy these Bruce & Walker rods during your tuition.  There are different actions to suit everyone.  Try them all and see which suits you best!  Attending a casting course is such a good idea - and great fun too!  Whenever you learn any new sport or hobby, there's always laughter to be heard and stories to be told along the way.  There really isn't a better way to learn how to fish, or to iron out those niggles with your casting.   The casting instructor is Mr Tom Brown, who is charm personified.  He has a wealth of knowledge and experience at his finger tips, and you will be in a very safe pair of hands.
We are delighted to support Meikleour Fishings at their Bruce & Walker rod testing Open Day on 21 June this year.  We look forward to seeing you all there, on the stunning Islamouth pool at Meikleour Fishings.  We will have all the latest models with us for you to try.  Numbers are limited, so please contact Claire Mercer-Nairne at  email: fishing@islamouth.co.uk , or call the Estate Office on 01250 883424 for an invitation and details.  Such an exciting time ahead!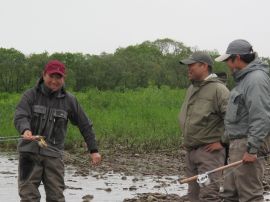 Hokkaido Trip
Hokkaido Trip
July 7 2014
Our contact in Japan, Mr Tomo Nakajima, of Natural Inc, Nagano City,  had a trip to Hokkaido recently, to show his clients the new Switch, Walker and Hexagraph rods.  The rivers in Hokkaido are in perfect condition at this time of year, although they could have done with a little less rain!  Judging by the smiles, a good time was enjoyed by all.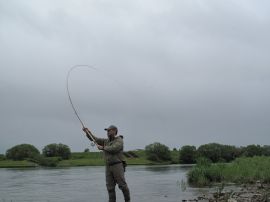 Hokkaido Trip
Hokkaido Trip
July 7 2014
A fisherman in Hokkaido, Japan, tries out a new Hexagraph rod, especially made to the specifications of Mr Tomo Nakajima of Natural Inc, Nagano City, Japan.  The rod is perfect for the river in Hokkaido and handled perfectly with the conditions during the trip.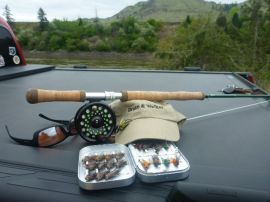 Switch Report
May 20 2014
The New Switch 11' #8 rod – tested by Mr Paul Dudley, British Columbia
The lines I tested were: 
450gr steelhead scandi.  Not bad, but felt a little feeble on this rod. Overhead and double Spey cast well, but was so / so on single Speys.... 
450gr 35' Nextcast fall favorite...amazing!   I was immediately impressed...I had worried that I wasn't going to have a light enough line, but this rod likes 450 and up...I had on a 12' leader and a weighted tube fly (no hook as rivers are closed).  I started out with partial line out, which cast nice.  I got the whole head out and did a few overhead casts which were strong.  Then I played with single and double Speys.   Goodness me.  I'm not sure how an 11' rod that is this light, can cast this well, but it's got some seriously hidden power in there.  I was casting it 90' without any effort.  I didn't expect a little Switch rod to do something like that.  
I stripped out more line to try and overhead cast and wow, did it fly out there!  So you got a little powerhouse in this rod, that casts better then my 12' rods. 
Last, but not least, a friend who is a switch rod addict, showed up.  We tried a 510gr. skagit switch line with a mow tip medium that was 5'by 5'.  Initially, it felt heavy and I was a bit sceptical. Then I cast it a few times and it was just launching off the rod!  I don't fish these lines, so handed the rod over to my friend, Scott.  He stripped out a bunch of line and sent it right across the river.  He turned to look at me and we both started laughing....!  WOW!  If you were up against a high bank, or log jam, but still wanted to get down deep to some fatties, this would be a good set up.  But we both agreed that for every day, everywhere else fishing, the 450 Nextcast was more fun. 
We thought it was the best Switch rod we have cast.  It doesn't feel like it should be like that.  You'd expect by wiggling it, a rod that could throw a medium weight set up 80' or so.  But what a revelation!  Just a little gem of a rod...My goodness, I like it! 
So here's the thing.  I never considered a switch rod to be something I would own or fish with.  Well now that I have tried the Bruce & Walker Switch rod, I would say that this rod, while it says "switch"; it is actually a fine smaller Spey rod.  And you can fish single handed, if you wish.  My friend, Scott, told me, of all the rods out there, he prefers fishing with switch rods.  And now that he's tried the Bruce & Walker Switch rod, he really wants one of these.  But he's not getting this one, as I'm keeping it! 
Paul Dudley April 2014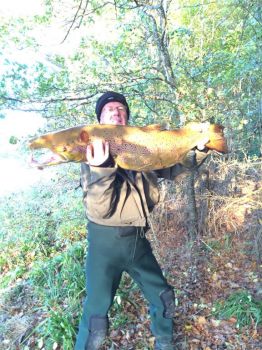 Fish of a Lifetime
December 16 2013
Most fishermen will have heard of the enormous success of Mr Shamus Jennings on Boleside, River Tweed, with Ghillie, Nigel Fell, at the end of October 2013.  Truly a "Fish of a Lifetime" - a 50lbs salmon.  Quite amazing.  The stuff of dreams.  Mr  Shamus Jennings wrote to us, as follows:
"I was truly impressed with the Bruce & Walker 16' Parabolic rod.  I have fished for all types of fish, over close to a 50 year period.  Bone fish in the Caribbean; rainbows in North America; sail fish; and indeed, all the various game fish you can mention.  I have used most of the well known rods on all species.  I can honestly say, that the Bruce & Walker rod is the most perfectly adapted rod for large salmon.  I have lost a couple of large fish in the past using a different manufacturer of rod.  Nigel Fell (my Ghillie) introduced me to Bruce & Walker rods several years ago.  What I found with my Parabolic 16' is that it performs a perfect curl and therefore is able to give a consistent control with a large fish.  Other makes of rods tend to bend in an uneven manner at the top end only.  I genuinely feel that I would never have landed this large fish, should I have used any other make of  rod that I have acquired over the years.  Thank you for producing a world class quality product."  Shamus Jennings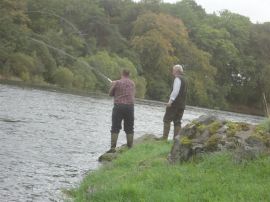 River Conon
October 31 2013
After far too long, it was good to meet up with Robert Kotschujew, Head Ghillie on the River Conon.  Robert is a wonderful host and has a wealth of knowledge at his fingertips.  And what a delightful spot on the Conon he has.  Brian and Robert tried out all the new Walker rods, and Robert was torn between the 14'6" and the 16'6"!  Very kind thanks to Robert and Evelyn for their time and hospitality.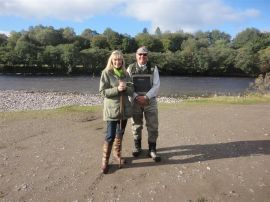 River Lochy
October 31 2013
During our visit to the Highlands, we were so pleased to catch up with Mr Willie Ritchie, the highly respected ghillie on the Lochy.  What a beautiful spot, under the gaze of Ben Nevis.  Willie's customers are our customers and it was joyful to spend time with him.  We can all learn a thing or two from Willie!  Our very grateful thanks to Willie for the warm welcome.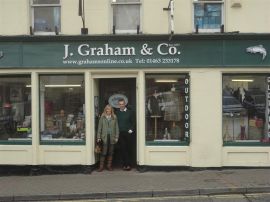 Grahams of Inverness
October 31 2013
Our annual pilgrimage to the Highlands would not be complete without a visit to David and all the boys at Grahams of Inverness.  Speaking on the phone regularly is never the same as having a conversation face to face.  We missed Roy on this visit as he was away, but it was lovely to catch up with everyone else.  Photo shows Mr David Traill and Kay outside the shop front.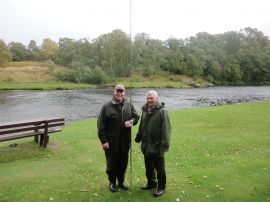 River Spey, Tulchan D Beat
October 31 2013
There might not have been enough rain during the summer months on the Spey, but it was a day of almost, non stop, torrential downpour, when we visited Mr Robert Mitchell on Tulchan D Beat.  Robert and Brian go back far too many years to recall, and it was good to catch up.  The wet weather could not dampen the smiles as Robert tried all the new rods and he particularly fell in love with the new Switch 11'3" and the Walker 16'6".  A brief respite in the rain allowed a quick photo.  A huge thank you to Robert for his time and warm welcome.  The roaring fire was most welcome too!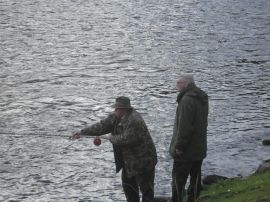 River Spey, Macallan Beat
October 31 2013
Mr Willie Bremner is a legend on the Spey.  No trip to the Highlands would be complete without a visit to Wiliie's hut.  The rain was unrelenting the day we visited him, but it didn't stop Brian and Willie trying out the new Walker rods.  Willie's heart went to the Walker 14'6"!  It was lovely to catch up with him again and very many thanks to Willie for making time to see us.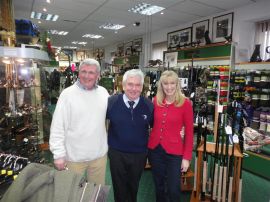 Mortimers of Grantown-on-Spey
October 31 2013
Meeting up with Grant and Marjory Mortimer, of Mortimers at Grantown-on-Spey feels like going home.  We have been "going home" for more years than we care to remember!  It is always a joy to visit Mortimers, and to catch up with all the girls there.  Sadly, Graham was on holiday the week we visited, but we have more than caught up with him since his return!  Many, many thanks to Grant, Marjory and all their staff, for the very warm welcome.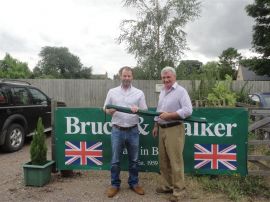 Paralite Salmon & Sea Trout
August 12 2013
We were honoured to be asked to make a very special salmon and sea trout rod for Mr Trevor Fowler, who lives close by.  After testing a few prototype blanks, Mr Fowler settled on the one for him.  He chose to have his special rod painted in an olive green rod colour, with matching whippings and low bell rings.  To complement the rod, Mr Fowler chose one of our handmade rod bags in green.  He also asked us to make him a green aluminium rod tube, finished off with one of our latest rod tube slip covers, also in matching green.  The end result is spectacular.  A very smart package.  Mr Fowler will be christening his new rod very shortly.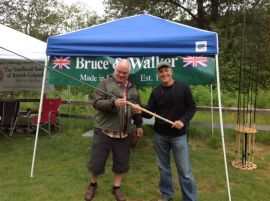 Long Beach Casting Club, USA
July 31 2013
We received an article recently, which appeared in an American magazine, Target Talk.  Mr Dale Day, a member of the Long Beach Casting Club, wrote the article and kindly allows us to print it on our website.
"The Long Beach Casting Club was the host to Mr Gene Oswald, American Airlines captain, from Lakewood, Washington.  He brought his Bruce & Walker Spey rods, with their appropriate reels and lines, for club members to use.  
The pond was beaten to a veritable froth by more than thirty members, from beginning to advanced Spey casters.  Assisting in the event were Jim Ansite, Mike Ivy, Dave Ross and Al Ward.  The record of how many Spey casters that can use the pond at one time was officially set at seventeen.  
Dave Ross, Howard Uller and Al Ward received their new Bruce & Walker Spey rods, fresh off the British Airways flight from the UK.  These lads were so happy with their new gear, that they couldn't sleep that night.  It is rumoured that Gene Oswald sent a trademark cast of one hudred and seventy five feet, much to the delight of all.  
There was a lot of sharing of lines, rods and casting technique advice.  The excitement about the day's event is still a topic of conversation around the Club House.  There was a true spirit of sharing with every one who attended the event.  
Gene has offered to return in the autumn to the Club, for more instruction and casting demonstrations.  Everyone who attended the Spey event would like to thank Gene and Bruce & Walker for sharing with members of the Long Beach Casting Club."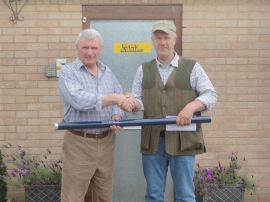 Mr R Brooks and his Bespoke Powerlite
June 28 2013
Mr Brooks came to see us in May to choose a very special 10' #5 three piece rod.  He chose a Powerlite 10' #5 blank and had it customised to his own specific requirements.  The rod was finished in blue with blue whippings and a little silver tipping.  He also had one of our new, handmade rod bags, in blue, to complement it.  The icing on the cake was his choice of a matching, made to measure, aluminium rod tube for the rod, in blue.  Everything was made, at Bruce & Walker, for him.  It was our pleasure to do so.  The photo shows Mr Brooks accepting his rod, bag and tube from Brian Potter.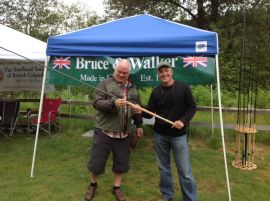 Hello USA!
May 24 2013
We have known Mr Gene Oswald for some years, but were thrilled when he became our representative in America at the beginning of this year.  We have been overwhelmed with kind comments and congratulations on our partnership with him.  Gene is a true fisherman through and through.  Added to which, he has been at the forefront of the Tournament Casting scene since its inception.  He is now appearing at various appropriate events, demonstrating his skills with his Bruce & Walker rods.  He provides a wealth of sound advice and knowledge to his customers.  This photo shows Gene (pictured right) at the Sandy Clave Show last weekend.  Double handed Speycasting is a growing phenomenon in the USA and Gene is guiding his fellow countrymen with this.  We are happy that it couldn't be in better hands.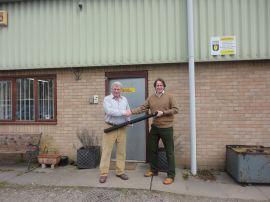 Henri Bortoft
May 1 2013
To commemorate and celebrate the life of Henri Bortoft, his son Arron, commissioned us to design and make a very special trout rod.  Several blank prototypes were made before the perfect one was settled upon.  It was then customised and finished into something befitting the occasion.  Complemented with an aluminium rod tube and hand made rod bag.  Arron Bortoft was thrilled with the result.  The picture shows our Brian Potter presenting the trout rod to Arron Bortoft.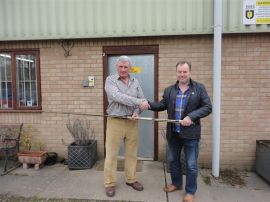 Custom Built Pair
March 28 2013
An early Easter gift for Mr Jonathan Booth of Hertford.  A pair of exquisitely custom built Carp Rods, 13' 3lbs, made to the exact requirements for Mr Booth.  Difficult to see all the intricate detail in this photo, but we took great pleasure in making these rods for him and hand finishing them to a very high specification and personal finish.  The photo shows Mr Booth accepting one of the pair of rods from Brian Potter.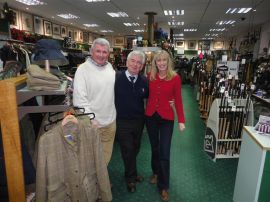 Highland Trip - Mortimers of Grantown-on-Spey
November 30 2012
A favourite spot for Kay is Mortimers of Grantown-on-Spey.  It was not surprising therefore, that accommodation for the Highland Trip was based around Grantown!  The family connection between Grant and Marjorie Mortimer, and Ken and Marjorie Walker, (and Kay as a mere teenager), is well known.  It was excellent to see Grant and everyone at Mortimers on a recent trip to the Highlands.  A very warm thank you to Grant and everyone at Mortimers for making time to see us and their very generous hospitality.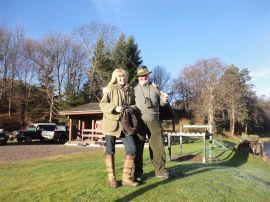 Highland Trip - Macallan Fishing, River Spey
November 29 2012
This photo shows Willie Bremner, ghillie at Easter Elchies, Macallan Fishing, River Spey, with Kay Potter, about to put the new Walker 15'6" rod through its paces.  It was a glorious winter morning and perfect for catching up with all the news.  Willie is a long standing friend of Ken Walker and many happy memories were re-lived.  A very warm thank you to Willie and Sam for their very kind hospitality.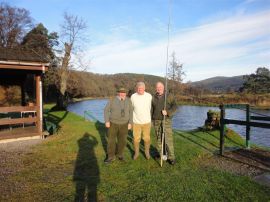 Highland Trip - Macallan Fishing, River Spey
November 29 2012
On a recent trip to the Highlands, it was wonderful to meet up with Willie and Sam Bremner, on the Macallan Fishing, River Spey at Easter Elchies.  Willie is ghillie on the Easter Elchies Beat, and Sam is the ghillie on the Wester Elchies Beat.  The photo shows Brian Potter in the centre.  Sam tried out the new Walker 15'6" and will have his own model in the new year, together with an appropriate line from our own range of lines.  Two perfect gentlemen on a lovely stretch of water.  What a lovely way to spend a morning!  A very warm thank you to the Bremner brothers for their generous hospitality.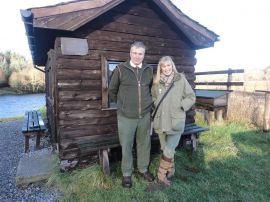 Highland Trip - Borrowston Beat, River Dee
November 28 2012
After many communications by email and telephone, it was lovely to finally meet face to face with Mr Bill Palmer, the ghillie at Borrowston on the River Dee.  He kindly showed us the pools and "top spots" at Borrowston - which has been committed to memory!  Bill tried the new Walker 15'6" rod and will have his own  model in the new year, together with an approriate line for our range of lines.  This photo shows Mr Bill Palmer and Mrs Kay Potter, outside the ghillie's hut at Borrowston. A beautiful spot on the River Dee, and we were blessed with glorious sunshine.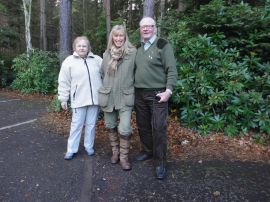 Highland Trip - River Findhorn
November 27 2012
A most enjoyable time was spent with an old family friend, Mr George Lilley, who used to ghillie with Ken Walker, many years ago.  Brian and Kay visited George and Jean Lilley and walked his beat on the Findhorn.  George has transformed the beat from what it was and it is the most beautiful stretch of water.  George's beat is a haven for wildlife and if you sit quietly for a while, all of Nature's wonders can be seen.  This photos shows George and Jean Lilley, with Kay Potter centre.  A very warm thank you to George and Jean for their kind hospitality.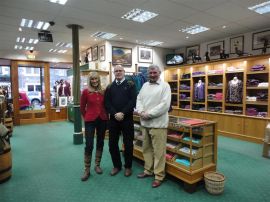 Highland Trip - Mortimers at Grantown-on-Spey
November 26 2012
Anyone who has visited Mortimers at Grantown-on-Spey will know what a wonderful feeling it is to walk through their door.  It would be nice to say, "I'll have one of everything, please!"  The service is first class - nothing is too much trouble.  The association with Bruce & Walker is many decades long, and it was wonderful to see Mr Graham Ellis, of Mortimers, rather talking  over the telephone.  Which we do.  Quite a lot!   Very many thanks to Graham for his kind hospitality and for making time to see us.  This photos shows Kay Potter, Graham Ellis and Brian Potter and Mortimers front of house.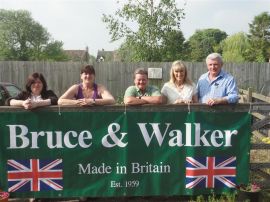 Jubilee visitors
May 30 2012
During the run up to the Jubilee weekend celebrations, Bruce & Walker welcome visitors from Norway, Canada and Japan. The Union Jack bunting and flags were waving to welcome all visitors.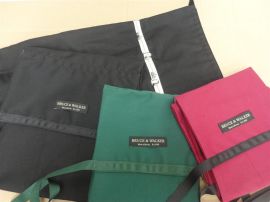 Hand made Rod Bags
May 30 2012
Bruce & Walker are now making their own rod bags, by hand, in house. Initially, they will be used for the new models - Shooting Head, Walker 15'6" and Norway 15' Mk II - but over time all our rods will be complimented with our own, in house, rod bags. Meanwhile, if anyone would like a new rod bag for their existing rod, we will happily make one for you. Details appear on our Accessories Shop page, or speak with us directly on 01487 813764.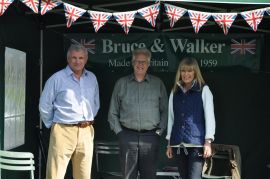 Stephen J Fawcett Open Day at Underley Estate
May 9 2012
Bruce & Walker were very pleased to support the Casting Open Day at Underley Estate by Stephen J Fawcett of Lancaster over the Bank Holiday weekend. It was glorious weather and a happy and busy occasion. This photo shows Brian with John Fawcett (centre) and Kay.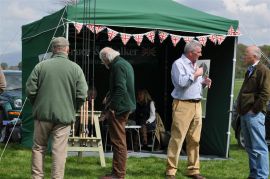 Stephen J Fawcett Casting Open Day at Underley Estate
May 9 2012
Bruce & Walker were very happy to support Stephen J Fawcett at their Casting Open Day held in the grounds of Underley Estate, by kind permission of Mr Philip Pease. The beautiful setting of the River Lune on the Underley Estate was blessed with sunshine all day and enthusiastic fishermen. This picture shows Mr Holden talking with Brian, foreground, and Kay talking with John Fawcett in the background.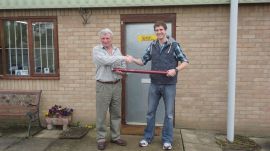 Bespoke 7'6" fly rod for Mr Buckey
April 27 2012
Mr Buckey Snr of Norfolk and Mr Buckey Jnr of WIltshire, visited Brian Potter at Bruce & Walker in late February, with regard to a bespoke trout fly rod for Mr Buckey Jnr's 30th birthday in May. Both father and son had a tour of Bruce & Walker to see how his blank and rod would be designed and made, and met the people who would be making it for them. After trying several different types of blanks, Mr Buckey Jnr chose a 7'6" 3 piece, ideal for river trout fishing in Wiltshire. He was able to choose his own colour of rod, colour of whipping, cork handle and reel fitting, exactly to his own specification. He also had a new Bruce & Walker hand made rod bag and aluminium rod tube, in matching colours to the whipping on his rod. The photo shows Mr Buckey Jnr collecting his rod from Brian Potter in April 2012.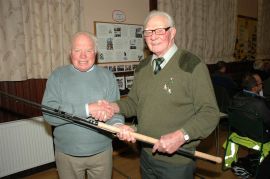 Centenary Rod
November 1 2011
Mr George Lilley commissioned a Bruce & Walker custom build rod to commemorate the centenary year of the Forres Angling Association. The picture shows Mr George Lilley presenting the Centenary Rod to Mr Andy Hutchison.

Win at Nordic Open Tournament Casting Competition, Gothenburg, Sweden
October 10 2011
Many congratulations to Geir Hansen, Tommy Aarkvisla and Knut Ekelund on coming 1st, 2nd, and 5th respectively, in the Nordic Open Tournament Casting Competition, Gothenburg, Sweden 15'1" class using the Bruce & Walker Tournament Caster 15'1" rod.
Well done!
Read the news at www.castingforbundet.no
Full results table: PDF REPORT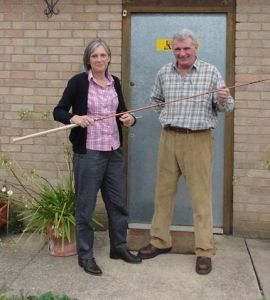 Mrs Jolly collects her bespoke Hexagraph Avon
September 30 2011
Mrs Liz Jolly of Milton Keynes became a frequent visitor to Bruce & Walker during the commission and building of her bespoke Hexagraph Avon rod. The picture shows her collecting her special rod from the factory, made for her by Brian Potter.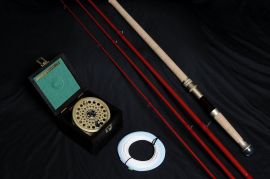 The Prince's Trust Clay Pigeon Shoot 2011
September 30 2011
Bruce & Walker has a long asssociation with charitable work, most notably as Patron of the Disabled English Fly Fishing Team. In recent years we have been assisting with The Prince's Trust in Scotland.
In 2011 we were honoured to assist with The Prince's Trust Clay Pigeon Shoot, Scotland. A truly unique salmon fly fishing rod was designed by Brian Potter of Bruce & Walker, exclusively for the event. The special rod featured a gold logo, plus bespoke livery matching the distinctive Prince's Trust colours. This fine 15'3" four piece rod was a one-off design, accompanied by a Bruce & Walker salmon reel in a wooden presentation box with a floating 10# Spey line and backing line.
The Shoot day itself raised an impressive £170,000, to help disadvantaged young people in Scotland. We were thrilled that the winning bid on our special 15'3" rod donation achieved an amazing £1,175.00. Many, many congratulations, and sincere thanks, to the winning bidder.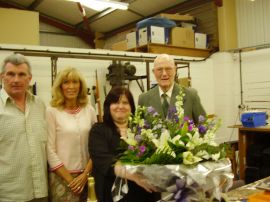 Celebrating 25 years continued service
June 28 2008
Celebrating 25 years continued service with Bruce & Walker, Tricia is surrounded by flowers and champagne for the day. Tricia joined the company as a school leaver, starting at the very bottom and learning a variety of skills and craftsmenship. She is now Head of the Finishing Section, in charge of Quality Control, and is often found helping out in the office too! We're looking forward to the next 25 years. (Photo shows Brian Potter, Kay Potter Tricia Cowling, Ken Walker).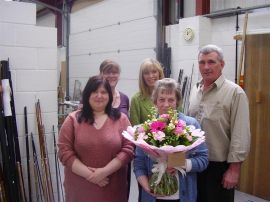 Gertie Miller retires after over 20 years
May 1 2008
After more than 20 years with the company, Gertie Miller retires from the Finishing Section. Gertie has been a very steady hand on the tiller over the years and she is sorely missed. Retirement allows her more time in the garden, but always industrious, a very welcome basket of fruit and vegetables appears from her from time to time. Photos shows what a real family affair Bruce & Walker is: Gertie with her daughter, Tricia, and Tricia's sister in law, Jenny, all of whom work together in the Finishing Section. Kay and Brian Potter in the background.
As well as flowers and accolades for Gertie, she also received a beautiful crystal decanter, engraved and obtained from our premier stockist, Mortimers of Grantown-on-Spey.